West Ridge Trail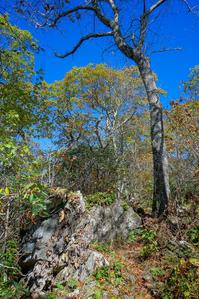 At A Glance


3.0 mi one-way
Difficulty Rating: 3 (More Difficult)
Steepness: Hilly
Tread Condition: Moderately Rough
Blaze Color: Gray
Hikes That Use This Trail: Graybeard Mountain

This trail is located in the Montreat area. For a list of all the trails in that area, see the Montreat trails list page.
Description
Traverses the summit of the Seven Sisters ridge from Stomping Knob to the summit of Big Slaty Mountain (False Graybeard), not far from the summit of Graybeard. Somewhat rough and steep in places. No views to speak of except through the trees in the winter. There is no water on this trail.
Notice: do not leave the trail on the west side of the ridge - this is Asheville Watershed property and closed to the public.
All Photos from the Trail
GPS Map
Download GPS Data
Click routes, trails, or points on the map to download them (on the GPS Data tab).
Trail Segments
Trails are often made up of several connecting paths which may have different characteristics, allowed uses, and seasons. This trail is divided into multiple segments as follows:
West Ridge - False Graybeard to Big Piney Ridge
Allowed Uses:
Length: 2.15 mi
West Ridge - Big Piney to Stomping Knob
Allowed Uses:
Length: 0.55 mi
Total Calculated Length: 2.7 mi
This value is derived from our underlying map data, and it may not match officially published information.
Intersecting Trails
Feedback
Ratings
Average Rating: (rated 0 times)
Rate It Now:
Comments