Commissary Trail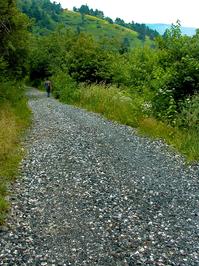 At A Glance


1 mi one-way
Difficulty Rating: 1


Steepness: Some Hills


Tread Condition: Few Obstacles


Hikes That Use This Trail: Camp Alice/Commissary, Old Mitchell

Description
This is an easy walk on a gently sloping gravel road to a historic logging, and later, tourist camp site below the summit. Starts at Stepps Gap at the Park Office. Provides spectacular views of Mount Mitchell and the mountains below. Passes through grassy fields on Bearwallow and Grassy Knob Ridges; also Spruce-Fir forests. Connects with the Mountains to Sea Trail, the Camp Alice Trail, and the Buncombe Horse Range Trail which continues 0.8 mi beyond Camp Alice to Commissary Ridge, a popular campsite on National Forest property. Crosses Lower Creek just before Camp Alice.
Intersecting Trails
This trail is located in the Mount Mitchell State Park area. For a list of all the trails in that area, see the Mount Mitchell State Park trails list page.
This trail also crosses into these trailhead areas:
All Photos from the Trail
GPS Map
Download GPS Data
Click routes, trails, or points on the map to download them (on the GPS Data tab).
Trail Segments
Trails are often made up of several connecting paths which may have different characteristics, allowed uses, and seasons. This trail is divided into multiple segments as follows:
Commissary - Office to Camp Alice Tr.
Allowed Uses: Hiking
Length: 1.14 mi
Commissary - Camp Alice to Buncombe Horse
Allowed Uses: Hiking
Length: 0.32 mi
Total Calculated Length: 1.46 mi
This value is derived from our underlying map data, and it may not match officially published information.
Feedback
Ratings
Average Rating: (rated 0 times)
Rate It Now:
Comments