Great Wall Trail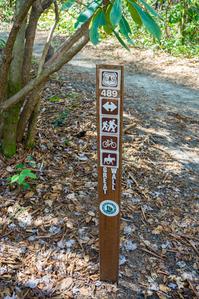 At A Glance




1.63 mi one-way
Difficulty Rating: 1.63


Steepness: Climbs Steeply


Tread Condition: Moderately Rough


Trail Number: 489
Hikes That Use This Trail: Panthertown Valley Tour

Description
This trail was previously considered two trails by most, but the Forest Service has officially combined them into one. For this reason, it has two distinct characters on the two different sections that now share the same name. Starting on the Deep Gap Trail, the trail descends as an old road to cross Panthertown Creek upstream of Granny Burrell Falls. Shortly thereafter, it enters the level valley at the upper end of Panthertown Creek and passes an old hunting shelter. The trail is open to bikes and horses up to the shelter. Beyond, it is open only to hiking, and it travels generally south below the sheer cliffs on the west side of Big Green Mountain, before veering northeast away from the creek. Up to this point the trail is mostly level and there are very few obstacles, but here it ascends steeply on a narrower, rougher path until the end at the intersection with the Big Green trail southeast of the summit. Makes a part of a great loop which includes many of the waterfalls in the valley.
Intersecting Trails
This trail is located in the Panthertown Valley area. For a list of all the trails in that area, see the Panthertown Valley trails list page.
All Photos from the Trail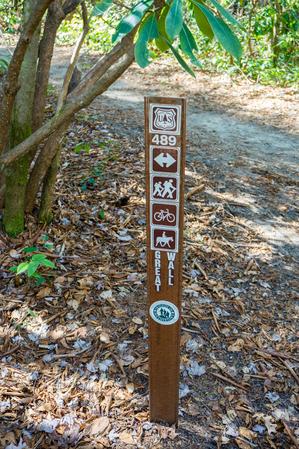 GPS Map
Download GPS Data
Click routes, trails, or points on the map to download them (on the GPS Data tab).
Trail Segments
Trails are often made up of several connecting paths which may have different characteristics, allowed uses, and seasons. This trail is divided into multiple segments as follows:
Granny Burrell Falls Tr. to Shelter
Allowed Uses: Hiking, Mountain Biking
Length: 217 ft
Shelter to Steep Climb
Allowed Uses: Hiking
Length: 0.86 mi
Steep Climb to Mac's Gap Tr.
Allowed Uses: Hiking
Length: 0.43 mi
Total Calculated Length: 1.32 mi
This value is derived from our underlying map data, and it may not match officially published information.
Feedback
Ratings
Average Rating: (rated 0 times)
Rate It Now:
Comments