Panthertown Valley Tour Hike
This is a large loop with a wide variety of main attractions. The trails will take you past lazy, meandering streams with clean white sandbars, yet you'll discover 5 major waterfalls as well. You'll explore the unusual, flat-bottomed, high-elevation valley and 300-foot high granite domes standing guard over it. Sheer cliffs offer great views of the unique area. Carnivorous plants grow among thick blankets of sphagnum moss, and rare and endangered species exist in the moist spray-cliff communities and on the dry, windy granitic domes as well. Be sure to bring your camera on this long hike!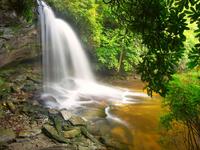 At A Glance

8.8 - 10.0 mi round-trip
Difficulty Rating: 12.18


Tread Condition: Moderately Rough


Climb: Hilly


Lowest Elevation: 3660 ft
Highest Elevation: 4210 ft
Climb Total: 1120 ft
Configuration: Loop with out-and-back extensions
Starting Point: Cold Mountain Trailhead

Trails Used: Deep Gap, Panthertown Valley, Great Wall, Wilderness Falls, Greenland Creek, Big Green, Mac's Gap, Granny Burrell Falls
Directions
From Asheville:
Take I-240 West to I-26 East to the Asheville Airport, exit 40. Turn right onto NC 280; follow this for 16 miles to Brevard. At the intersection with US 64/276, continue straight onto this dual highway. In downtown Brevard, US 276 heads right; stay straight on US 64. US 64 bears right after passing through brevard. Follow US 64 for about 15 miles (it becomes very curvy) to the intersection with NC 281; turn right. See below.
From Highlands:
Follow US 64 East to Cashiers. 13 miles past the stoplight in Cashiers, just past the Lake Toxaway dam, turn left on NC 281.
Once you are on NC 281, go 0.8 miles and turn left on Cold Mountain Road (the fire station is on the right). Proceed just under 6 miles up Cold Mountain Road; the road turns to gravel. At a sharp left turn, a sign will indicate the Panthertown parking is just ahead. It is 0.1 mile from the sharp left turn to a gravel road on the right signed for the parking area; the road is about 0.1 mile long and the parking area is at the end of the road.
Details
Hike Description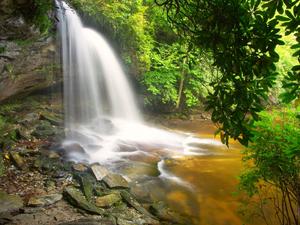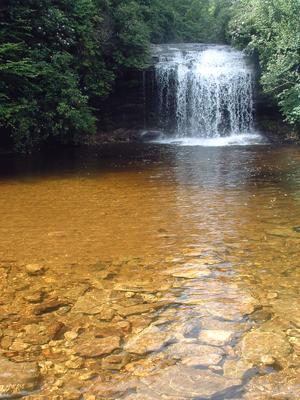 Begin the hike on the Panthertown Valley trail (#474). This trail begins near the back-right of the parking area as you drove in. It starts out uphill, but shortly levels out and begins heading downhill through a forest of young hardwoods. You will quickly arrive at a small branch, cross on a wooden footbridge, then meet a gravel road 0.1 mile from the start of the hike. The trail turns left here.
The trail follows the old road, which starts out level but begins a gentle downhill grade. You will pass under the power transmission line Duke Power ran through the valley in the late 1980's, where the forest is periodically killed to keep it from contacting the wires. You will pass an old sign board, then reach a switchback to the left where a small relay station of some sort is on your right. You may also notice a trail heading right at this point; don't take it - continue on the road around the switchback.
The road will reach another switchback, this time to the right. Continue for another 0.4 mile until you reach a footbridge over tranquil Panthertown Creek. Here is your first glimpse of the tea-colored water which is characteristic of this valley. It results from various kinds of leaves and pine needles steeping in the water as it pools and slowly seeps through boggy areas upstream, like tea leaves in a cup of tea. The water is actually high-quality despite its brown appearance and it is not indicative of pollution upstream (at least not on Greenland Creek).
Just beyond the bridge, turn left onto the Little Green trail (#485). This goes about 0.1 mile to Schoolhouse Falls, then veers left, up the mountain. The trail has been recently re-routed, and graveled, improving its condition. However, it has also been poached by horses, and they have dug a few large, sticky mud holes. A long, sturdy boardwalk is on the trail just before you reach the falls, and a small brook runs beneath and then beside it. Where the trail starts up the mountain, stay left; a small set of steps will deposit you at a large gravel bar at the edge of a large, round pool, opposite the falls. The pool makes a good place to swim in the summer, and the gravel bar is the natural choice for a hanging-out spot.
The creek flows around the gravel bar to your left facing the falls. You can cross there, and pick up a rough path up to the falls beneath a dripping, overhanging bluff. You can actually go behind the falls, but be careful not to trample anything green - moss, plants, etc. - as they form a fragile and rare spray cliff community which only exists on the rocks surrounding waterfalls. You could also swim up to the falls during low or normal water flow - even stand under them if you don't mind getting wet and pounded by the cold falling water!
Return to the Panthertown Valley trail, and turn left. The trail here follows Greenland Creek downstream (level, really) for a ways and this section of trail used to be very wet and muddy. Fortunately, the trail has received extensive work and it is in fairly good shape now.
About 0.4 miles from after you return to the Panthertown Valley trail, you'll reach another footbridge - at the junction of Panthertown and Greenland Creeks. Their confluence marks the start of the Tuckaseegee River, which heads downstream over several smaller waterfalls (not visited by this hike).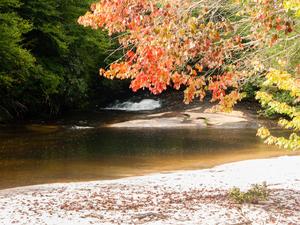 The trail swings left after the footbridge and begins following Panthertown Creek upstream through a nearly level valley. A nice campsite is on the left just past the bridge. Keep left at the junction with Powerline Road Trail (#451) to stay on the Panthertown Valley trail.
Hemlocks, white pines, various hardwoods and thickets of hemlock and rhododendron line the trail here. It's mostly smooth and nearly level, with only a few rocky, sandy, or wet sections. Boggy areas line the trail as well, and you'll see sphagnum moss growing thickly in its preferred wet environment. In drier areas, and in some of the white pine plantations that you'll pass through, the ground is covered with ground pine (running cedar), a clubmoss which is fairly common and widespread throughout these mountains.
The white pines were planted about 30 years ago as Christmas tree farms, but were never harvested, and today they make thick, attractive groves (albeit lacking much biodiversity). To your left, the stream winds lazily through the woods and large sandbars line the banks in places. A large one, coupled with a wide, deep pool below a tiny cascade, is appropriately named Sandbar Pool. It makes a fantastic place to stop, eat a sandwich, take a swim, or a few photos before continuing on the trail.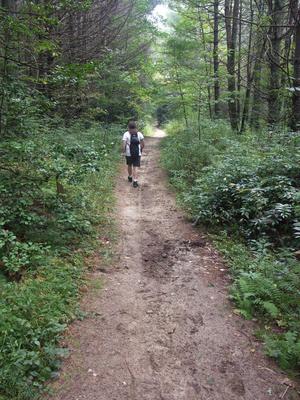 The trail begins climbing gently, and then abruptly becomes more steep, indicating the approach of your next turn. At the intersection with Mac's Gap trail (#482), turn left.
This is a wide trail - another old road. It soon passes through a thick white pine plantation, where the undergrowth disappears and it becomes easy to lose track of the trail. Follow the blazes carefully through the pines. The trail generally sticks to the right (southwest) edge of the patch of pines.
After emerging from the pines, the trail descends to a crossing of Panthertown Creek on a wide, rickety old wooden bridge. The bridge is at a spot where the creek looks more like it's flowing through the coastal plain than at 3600 ft elevation in the mountains.
Just past the bridge, turn right onto the (much narrower) Granny Burrell Falls trail (#486). You can hear the waterfall upstream if you listen carefully. The trail twists through the thickets along the creek, and gets extremely muddy in spots, before coming up alongside Granny Burrell Falls. A short side path leads to the middle of the falls.
The waterfall consists of a short slide into a small pool, then a very long, gentler slide over a wide rock into a huge pool with a long sandbar at the far end. You can walk up the rock to the main drop or down to the pool with no trouble if it is dry and the water level is low to normal. Of course if the water is high, stay away like you would any flooding stream.
To continue the hike, continue southwest on the Granny Burrell Falls trail on the left side of the falls. For the next little while, the trail is steep, very rooty, very muddy, and snakes up and down through the thick rhododendron. It moderates a good bit as it picks up an old road bed and begins following the creek upstream once again. The creek has a few small cascades and chutes above Granny Burrel falls, but then it is tranquil and calm as it enters another nearly level valley above the discourse.
You'll reach the intersection with the Great Wall trail (#489), which is another old road bed. Turn right here. You'll immediately come to a crossing of Panthertown Creek, and it might possibly be a rock-hop if the water is down. But you may have to wade if it is up, and if it is very high, you won't be able to cross at all. This begins the optional out-and-back portion of the hike to Frolictown and Wilderness Falls - you'll return to this point later on, so keep that in mind if the crossing is a pain.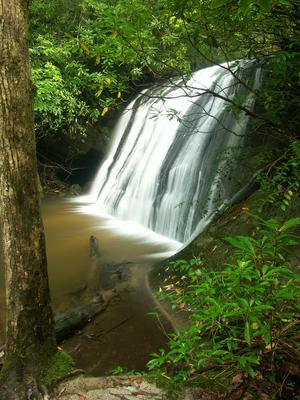 The trail swings left after the crossing, is muddy and rocky at first, then begins climbing moderately on a smoother path through a rich hardwood forest. After a steeper climb you'll reach the junction with the Deep Gap trail (#449), which goes sharply right and straight ahead. Continue straight on the Deep Gap trail and start descending again toward Frolictown Creek.
The trail crosses Frolictown Creek directly above 15 ft Frolictown Falls. But you can't see anything from the top and it's dangerous to try. So shortly before the creek crossing, look for the Wilderness Falls trail (#490) on the right. Now, turn left and look directly across from it to find the side path which descends to the base of Frolictown Falls. When you're done enjoying the falls, return to the Deep Gap trail and go straight across it onto the Wilderness Falls trail.
The Wilderness Falls trail starts slightly uphill on a narrow, twisty path. It passes a neat, large hemlock tree at one point. The undergrowth consists largely of doghobble in this area. A few small seeps and muddy bogs will slow you down, but the trail is not terribly difficult (my 3 year old daughter did it in August 2012) and becomes considerably smoother as it picks up an old road bed after a short distance.
The trail leaves the road bed gets twisty again, going up, around, over, and through hummocks and clumps of rhododendron. It starts following a small tributary which will be on the left, and the tributary is the stream below Wilderness Falls. The path climbs considerably just before the falls and a very steep scramble is required to reach the base, where there is a decent view. It's a high, steep slide on a small stream but well worth the effort required to see it.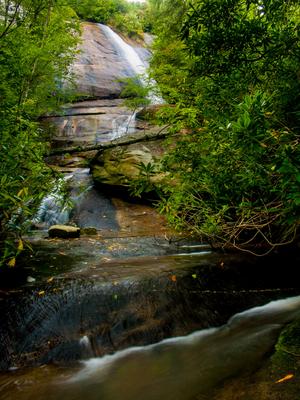 When you're done at this waterfall, turn around and go back down the Wilderness Falls trail to the Deep Gap trail again. Turn left, then bear right (downhill) at the Great Wall trail to descend back to the rock-hop/wade of Panthertown Creek you made earlier. Pass the Granny Burrell Falls trail on your left to resume the loop portion of the hike.
The Great Wall trail now takes you in to a very flat portion of the valley below Big Green Mountain. On the right, a large shelter with a tin roof will appear under some white pines. The trail past this is nearly level, smooth, and easy. To the left and high above you, the sheer 300 ft cliffs of Big Green mountain - the Great Wall of Panthertown - loom above you, and you'll have occasional views of them through the trees (more so in the winter). An obvious path leads 100 yards left to the base of the cliffs just past the shelter and makes a nice side option. Continue on the Great Wall trail, crossing a few small side branches.
Just beyond a crossing of a larger tributary, the trail makes a 90-degree left turn into a grassy area and becomes much narrower. This portion of the trail is also quite steep and rough. It twists through the vegetation, generally following the tributary upstream and crossing it at a difficult spot once. Above the crossing, a couple of sections are very steep. Luckily, this trail is fairly short, and the Forest Service may be about to improve some sections of this trail (or already has based on the orange tape I saw on my last trip).
The trail climbs into a gap (cresting 4000 ft in elevation near the top) and intersects the Big Green trail (#447) - which is much wider, another overgrown old road bed. To the left, the Big Green trail goes 0.6 mi (1.2 mi round-trip) and up 160 ft to the top of Big Green Mountain. This is an optional side trip for this hike. The views are fantastic but of course best enjoyed on a day that's not foggy or hazy. If you had the energy to take the side trail, return to the intersection with the Great Wall trail and continue straight. Otherwise, turn right.
The Big Green trail swings left around a knob and climbs gently to a small gap, then begins descending. The trail is somewhat overgrown along this section, but it is still obvious and should be receiving more use and maintenance these days. It passes through mostly open woods, but also through a recently cut area with short sourwood trees, patches of mountain laurel, and crackly lichens covering the soil. Just past this area, you'll reach another intersection - with Mac's Gap trail (#482).
To the left, Mac's Gap trail heads back down between Little and Big Green Mountains, and winds up at Granny Burrell Falls (and the wooden bridge you crossed earlier). The unofficial path to the right is a dead-end. Straight across is also Mac's Gap trail - take that.
This section is less overgrown and more heavily traveled as it descends gently. The trail will get to a deeply eroded spot, merge with a small stream on the right and sort of cross it at a slight angle - right at a sloping, solid rock. If this hasn't been re-routed or fixed by the time you get here, use caution: it can be very slick! Continue on Mac's Gap trail again after the crossing, which will cross another tributary before coming to Greenland Creek.
Greenland Creek is sizeable. You can either wade the creek, or you can head up a small scramble path to the right to attempt a rock hop. There usually aren't enough rocks here to be successful, but on occasion someone takes the time to line some up. If the water is moderately high it may be a wade either way. If the water is very high, this crossing may be impassible - so keep that in mind if planning this hike in rainy weather.
Once across, you'll enter a clearing and junction with Greenland Creek trail (#488). To the left is both Mac's Gap and Greenland Creek trails; to the right is a narrower extension of Greenland Creek trail heading upstream. Take that to begin another out-and-back extension to the last waterfall on the hike.
Find Greenland Creek Trail entering the pine woods to the right and follow it to Greenland Creek Falls. The trail starts on a wet old road bed above Greenland Creek, but then starts twisting through the rhododendron and mountain laurel in a flat valley. It crosses a couple of small branches, and gets very muddy in places. You'll start to hear the falls soon. Like a grand finale, the trail spits you out onto a jumble of rocks across the pool from the base of this beautiful 60-foot, two-level cascade - my personal favorite in the valley.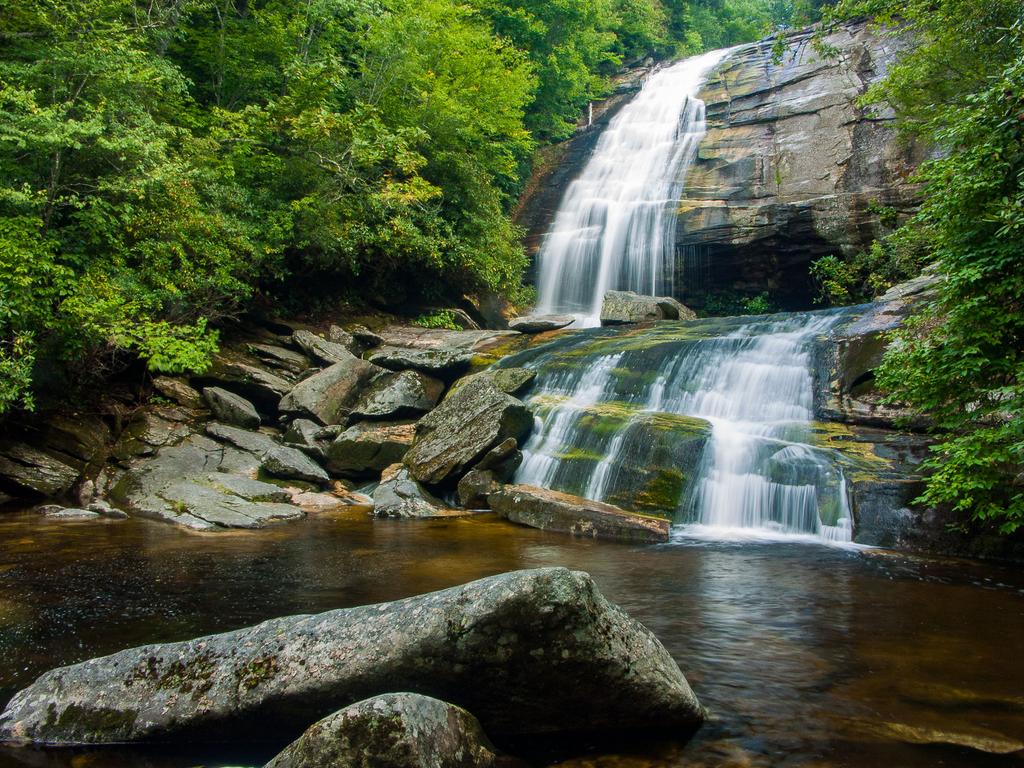 Here is a place I never get tired of. The falls isn't particularly high, or powerful, but for me it's just the right amount of both. The water is crystal-clear save for the tea-colored tannin stain. There are plenty of rounded boulders to sit on and explore, and they are clean, smooth granite. In the fall, the trees blaze with color and leaves swirl around in the riffles and pools. I could spend an entire day here before I know it.
When you've had enough (or run out of time like I always do), head back down the twisty Greenland Creek trail to the small clearing, then take Mac's Gap trail (pretty much straight ahead but slightly to the right). The trail ascends gently on a wide old road bed which will eventually pass beneath the high-tension power line. Just beyond that, the trail will climb a short, steep bank, level out, and pop out on the road to the parking area. Turn left and walk 200 feet or so back to your car to finish the hike.
As you can see from the map above, this is just one potential loop out of a number of trips you could make through the Panthertown Valley. For example, you could cut the loop in half by taking Green Valley and more of Mac's Gap trails, or add the waterfalls near Devil's Elbow and Riding Ford trails to make the hike even longer and more challenging. You'll probably want to visit the valley more than once to take in everything, though, and we think this loop should make a good starter route for an initial visit.
Hike Landmarks
| Mile | Directions |
| --- | --- |
| 0.0 | Start by taking the Panthertown Valley trail uphill to the right at the sign board. |
| 0.1 | Footbridge. Turn left on gravel road. |
| 0.3 | Sign board. Go straight. |
| 0.45 | Relay station on right. Road switches back left. |
| 0.6 | Road switches back right. |
| 0.8 | Side trail enters from R. Stay straight. |
| 1.2 | Footbridge over Greenland Creek. Turn left just past the bridge onto Little Green trail to Schoolhouse Falls |
| 1.3 | Schoolhouse Falls. Return to Panthertown Valley trail. |
| 1.4 | Back at Panthertown Valley trail. Turn left. |
| 1.8 | Footbridge over Panthertown Creek. Trail angles left. Good campsite. Keep L at junction with Powerline trail |
| 1.9 | Sandbar Pool is on Panthertown Creek on the left. |
| 2.4 | White pine plantation. |
| 2.7 | A tiny, wet-weather sliding waterfall is on the right. |
| 2.8 | Panthertown Valley trail begins a steeper climb. Turn left onto Mac's Gap trail after a short portion of the climb and head downhill through pines. |
| 2.8 | Cross Panthertown Creek on a wide old bridge. Turn right on Granny Burrell Falls trail. You can hear a waterfall upstream. |
| 3.0 | Come out at Granny Burrell Falls. Continue on Granny Burrell Falls trail after viewing falls; it gets rough and climbs above the upper drop. |
| 3.2 | Trail gets much easier on an old roadbed. Very muddy in places. |
| 3.4 | Intersection with Great Wall trail. Turn right; wade or rockhop Panthertown Creek. |
| 3.7 | Intersection with Deep gap trail. Salt Rock is a hard right. Go straight/left, downhill, on Deep Gap trail. |
| 3.75 | Just before road crosses Frolictown Creek, take side trail on L to reach base of 15 ft Frolictown Falls. Return to the Deep Gap trail and take Wilderness Falls trail, which is now straight ahead across the Deep Gap trail. |
| 4.15 | High waterfall to the L; scramble to base. Return to Deep Gap trail at falls on Frolictown Creek. |
| 4.45 | Back at Deep Gap trail and falls on Frolictown Creek. Turn left. |
| 4.6 | Back to Great Wall trail; bear right, downhill. |
| 4.9 | Back to crossing of Panthertown Creek. Pass Granny Burrell Falls trail on left; continue straight on Great Wall trail. |
| 4.95 | Pass a trail shelter on the right. Continue across small open area to pick up Great Wall trail again. |
| 5.0 | Side path leads left 100 yards to base of cliffs on Big Green Mountain. Continue straight on Great Wall trail. |
| 5.7 | Cross small branch; trail makes a 90 degree left hand turn and gets much narrower. Begin steep rough climb. |
| 6.1 | Top of steep climb and intersection with Big Green trail. Optional side hike L on Big Green trail leads 0.6 miles to top of Big Green mountain and great view (1.2 mi RT). Return to Great Wall trail and keep left on Big Green trail. |
| 6.6 | Descend to small gap and intersection with Mac's gap trail. Go straight/right (not left) on Mac's Gap. |
| 7.0 | Slippery creek crossing. |
| 7.2 | Easy creek crossing. |
| 7.3 | Wade Greenland Creek and enter small clearing. Pick up Greenland Creek Falls trail on the right. |
| 7.7 | Twisty trail comes out at Greenland Creek Falls. Return to clearing and Mac's Gap trail. |
| 8.1 | Back at clearing and Mac's Gap trail. Take Mac's Gap trail straight ahead and to the right, uphill. |
| 8.6 | Cross under power lines. |
| 8.7 | Reach road. Turn left to get back to your vehicle. |
| 8.8 | Finish. |
Map
Green highlight indicates the route to follow within the trail network for this hike.
Tip: Printing this map? You can pan and zoom the map as desired before printing to show the area you need.
Map Information
Download GPS Data
Click on a route, trail, or point on the map and select the GPS Data tab to download its data.
Data Formats
KML (Google Earth)
KML is the main file type used by Google Earth. If you have Google Earth installed, clicking the KML link should open the trail or point directly in Google Earth for viewing. This is the native file format used by Google Earth, but many other map applications can use and understand KML as well, so if you're not sure which one to download, KML is a good bet.
GPX
The GPX format stands for GPS Exchange - a free, open, XML format for exchanging GPS and map data. GPX is compatible with Google Earth, many other mapping programs, and most GPS devices (such as Garmin). Load the file directly into your GPS to help find your way on your next trip!
GeoJSON
GeoJSON is a newer, lightweight data exchange format which can be used to quickly share map data and may have a smaller size than KML or GPX. Many professional mapping and GIS applications support the GeoJSON format.
About the Map
Copyright
Base Layers
Base layers provided by OpenStreetMap, the US Geological Survey, the US Forest Service, and NC OneMap. Base layer images are subject to the respective copyright policies of their owners. Base layers may not be available at all times due to system maintenance or outages.
WNCOutdoors Base Layer
The WNCOutdoors Base layer is provided by WNCOutdoors.info. It is licensed by Creative Commons Attribution 3.0.
Trail and Marker Overlays
Trail layers and downloadable data are all original works created by WNCOutdoors with guidance from a variety of sources, including ensembles of our own GPS tracks, user contributed GPS tracks, official maps and GIS data from government agencies, and field observations. WNCOutdoors data is made freely available under the Open Database License - you are free to copy and use it for any purpose under the terms of that license (summary).
Tips
Hover over a trail to see it highlighted. Helps to see start and end points for an individual trail.
Scroll and zoom the map before printing, and that view will persist into the printed image.
Click a trail for more details and to download it individually.