Wilderness Falls Trail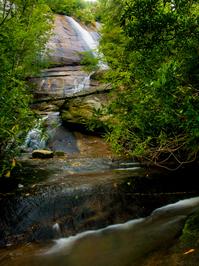 At A Glance


0.73 mi one-way
Difficulty Rating: 1.21


Steepness: Climbs Moderately


Tread Condition: Few Obstacles


Lowest Elevation: 3725
Highest Elevation: 3990
Total Elevation Gain: 265
Trail Number: 490
Hikes That Use This Trail: Panthertown Valley Tour

Description
Starting just west of Salt Rock along the Panthertown Valley trail, this trail descends on a path with three distinct characters, past the base of Wilderness Falls. The upper portion is not recommended until a re-route of the middle section is completed. This re-route is officially proposed by the Forest Service as of July 2012.
The portion from the Panthertown Valley trail to the top of the falls is on an old road bed and is in generally good shape with moderate grades, with only a few eroded spots. Closer to the top of the falls, it's mostly level and in great shape.
The section from the top of the falls to the bottom is narrow, slippery, steep, and rough. This is the section that will be by-passed with a reroute. It comes out on a rock outcrop (the same one that forms the falls), and descends steeply alongside the waterfall to its base, directly down-slope. It's not great at all.
The portion from the Deep Gap trail to the base of the falls is in decent shape again, though - narrow and twisty in spots, with a few mud sections, but nothing terrible and no major climbs.
Thus, if you're just wanting to see the falls, come in from the bottom (Cold Mtn. Trail) and skip the middle part, until it gets re-routed. It's well worth it.
Intersecting Trails
This trail is located in the Panthertown Valley area. For a list of all the trails in that area, see the Panthertown Valley trails list page.
All Photos from the Trail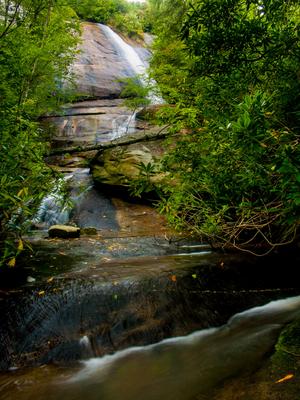 GPS Map
Download GPS Data
Click routes, trails, or points on the map to download them (on the GPS Data tab).
Trail Segments
Trails are often made up of several connecting paths which may have different characteristics, allowed uses, and seasons. This trail is divided into multiple segments as follows:
Wilderness Falls - Above Falls
Allowed Uses: Hiking
Length: 0.47 mi
Wilderness Falls - Below Falls
Allowed Uses: Hiking
Length: 0.3 mi
Total Calculated Length: 0.77 mi
This value is derived from our underlying map data, and it may not match officially published information.
Feedback
Ratings
Average Rating: (rated 0 times)
Rate It Now:
Comments