Art Loeb Trail
Overview
The 30.1 mile Art Loeb Trail is one of the longer and more difficult trails in the state, and it's also one of the more popular. This trail is a memorial to Art Loeb, an activist from the Carolina Mountain Club, and a man who "deeply loved these mountains." It's a designated National Recreation Trail (NRT), promoted as one of the highest-caliber trails for recreation access to this section of the National Forest.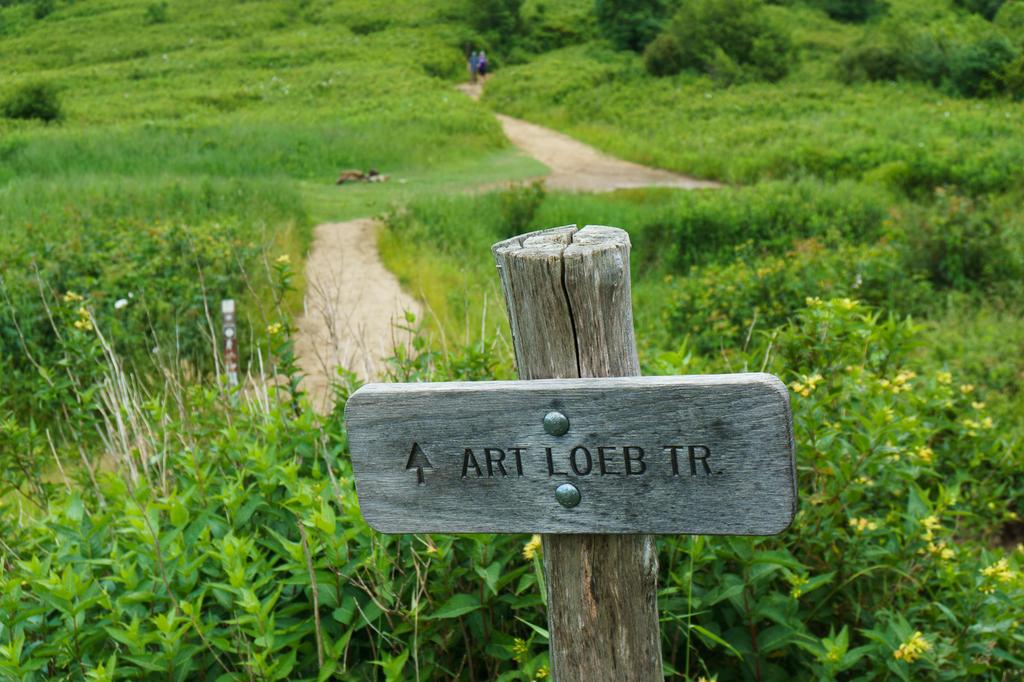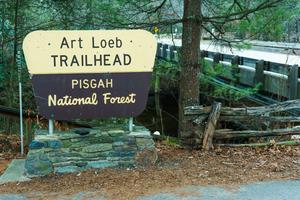 Traveling mainly along peaks and ridges rather than in the valleys, the trail offers many views along the way to its lofty high points. It skirts along the southwestern rim of the Davidson River valley, then climbs up past the Blue Ridge Parkway and skips across some of the highest peaks in the Black Balsam area before descending Cold Mountain to the Daniel Boone Scout Camp. It takes the hiker to some of the finest scenery to be found in Pisgah, and you'll view or cross many of the landmark mountains in the region.
Many folks use this trail for an extended backpacking trip (at least 2-3 days) and plenty of campsites along the trail will facilitate that kind of trip. Others use shorter sections of the trail for day hikes, or use connecting trails to form loops. However you find yourself on the trail, it's one you're sure to enjoy.
The Art Loeb trail uses the same path as the Mountains to Sea trail along portions of its length.
---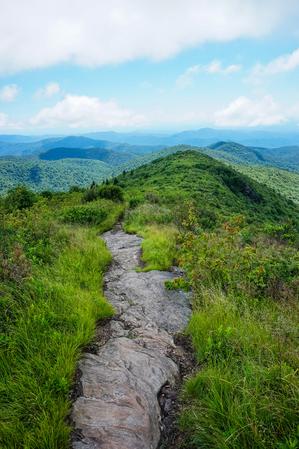 Through-Hikes
Access Considerations
There are no permit requirements or other red tape for accessing the trail, but there are some things to keep in mind for day and overnight hikes.
Trailhead Parking Spaces
The main trailheads at the Davidson River and Daniel Boone ends have parking, but space is limited. For overnight hikes, consider a shuttle if that's an option for you rather than leaving a vehicle at the trailhead. It will be safer for your vehicle, leave spaces for day hikers, and a shuttle will be required anyway if you're hiking the trail one-way.
Parking is very tight at the other two direct access points, FS 475 crossing at Gloucester Gap and FS 816, Black Balsam Road. Some parking is also available at other trailheads for trails that connect to the Art Loeb.
Camping on the Art Loeb
Through-hikes of the Art Loeb trail are generally spread over several days requiring overnight camping. Several well-used campsites lie along the trail; many other lesser-used ones also exist along the Art Loeb and adjoining trails. There are no reservations required or accepted at these sites; they are available on a first-come basis. There are (sketchy) old shelters near Butter Gap and Deep Gap with space to pitch a tent nearby. I'd opt to pitch a tent or hang a hammock rather than attempting to use a shelter.
Practice Leave No Trace when camping. Standard Pisgah National Forest dispersed camping regulations and guidelines apply.
---
Shorter Hikes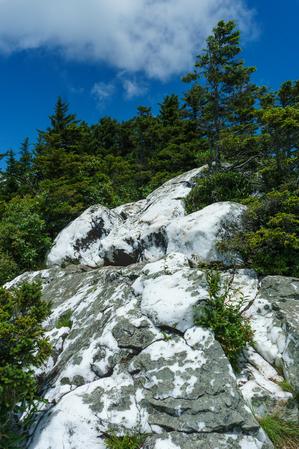 While through-hikes of the Art Loeb trail are popular, out-and-back hikes on short segments of the trail remain the way most people experience it. And many other trails also connect to the Art Loeb, making loops that use portions of it another option for day hikes. Here are some suggested day hikes using the Art Loeb trail that highlight some of its best features and destinations.
Out-and-Back Options
To Pilot Mountain from Gloucester Gap on Section 2
From Black Balsam Road to Silvermine Bald on Section 2, opposite the Black Balsam Knob hike (no less scenic but perhaps with more solitude)
From Black Balsam Road to Black Balsam Knob on Section 3, by far one of the most popular hiking destinations in the Southern Appalachians, let alone the Art Loeb Trail
To Cold Mountain and back from the trail's northern terminus, Section 4 - a valid route to "summit" Cold Mountain
Loop Options
Connect with Butter Gap and/or Cat Gap trails in the Davidson River area on Section 1
Connect with Flat Laurel Creek and Little Sam trails near Silvermine Bald on Section 2 (highly recommended!)
Continuing past Black Balsam Knob to Shining Rock on Section 3, with a return on the Ivestor Gap trail for some variation
Connecting with Graveyard Ridge and/or Ivestor Gap near Black Balsam.
These are just a few of the possible loop hikes that could be put together using this trail.
---
Sections
Since the Art Loeb is such a long trail, it is divided up into 4 sections by the Forest Service, which we use on this site as well.
Davidson River to Gloucester Gap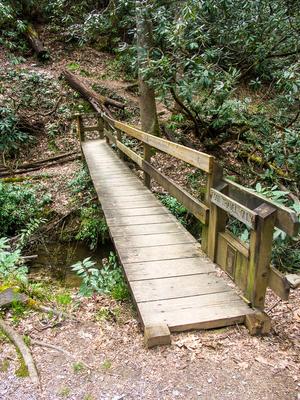 Starting at the Davidson River near the Davidson River Campground, near Brevard, NC, Section 1 of the trail climbs Shut-In Ridge and travels generally west-southwest, where it takes you up and down knobs, along ridges, and down into gaps several gaps. It curves around Cedar Rock Mountain before crossing through Gloucester Gap to begin Section 2.
---
Gloucester Gap to Black Balsam Knob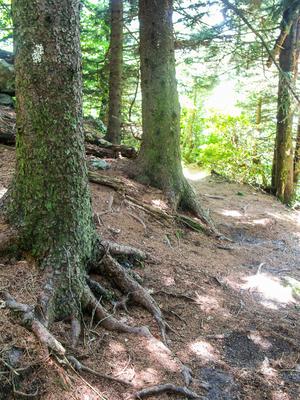 From Gloucester Gap, the trail swings west-northwest and ascends Pilot Mountain, where it turns north toward the main Pisgah Ledge, the backbone of the mountains in this region. It ascends to an elevation over 6000 ft, at a point above the Blue Ridge Parkway at Silvermine Bald - one of the more remote locations on the trail - before taking a level course through cool coniferous forests to reach Black Balsam Road (FS 816).
---
Black Balsam Knob and North
Section 3 begins across the road and parking area by climbing to Black Balsam Knob itself (here is a photo gallery), where you're sure to find crowds. On Black Balsam Knob, the trail's high point, is a plaque commemorating Art Loeb and his eponymous trail. This is the most famous and most popular section of the trail, for good reason. The views and uniqueness of this section of trail are unsurpassed in the region. From there, it travels across several more mountain balds and through the Shining Rock Wilderness past Shining Rock itself, to end at Deep Gap. A spur trail leads to the summit of Cold Mountain. Section 4 of the trail is the descent to the end near the Daniel Boone Boy Scout Camp on the Little East Fork Pigeon River. This section is often used by itself, in combination with the Cold Mountain spur, as a way to "summit" that peak.
---
Map
See below for a map of just the Art Loeb Trail. To see all the other connecting trails, see the Davidson River and Shining Rock Wilderness maps.
Map Information
Download GPS Data
Click on a route, trail, or point on the map and select the GPS Data tab to download its data.
Data Formats
KML (Google Earth)
KML is the main file type used by Google Earth. If you have Google Earth installed, clicking the KML link should open the trail or point directly in Google Earth for viewing. This is the native file format used by Google Earth, but many other map applications can use and understand KML as well, so if you're not sure which one to download, KML is a good bet.
GPX
The GPX format stands for GPS Exchange - a free, open, XML format for exchanging GPS and map data. GPX is compatible with Google Earth, many other mapping programs, and most GPS devices (such as Garmin). Load the file directly into your GPS to help find your way on your next trip!
GeoJSON
GeoJSON is a newer, lightweight data exchange format which can be used to quickly share map data and may have a smaller size than KML or GPX. Many professional mapping and GIS applications support the GeoJSON format.
About the Map
Copyright
Base Layers
Base layers provided by OpenStreetMap, the US Geological Survey, the US Forest Service, and NC OneMap. Base layer images are subject to the respective copyright policies of their owners. Base layers may not be available at all times due to system maintenance or outages.
WNCOutdoors Base Layer
The WNCOutdoors Base layer is provided by WNCOutdoors.info. It is licensed by Creative Commons Attribution 3.0.
Trail and Marker Overlays
Trail layers and downloadable data are all original works created by WNCOutdoors with guidance from a variety of sources, including ensembles of our own GPS tracks, user contributed GPS tracks, official maps and GIS data from government agencies, and field observations. WNCOutdoors data is made freely available under the Open Database License - you are free to copy and use it for any purpose under the terms of that license (summary).
Tips
Hover over a trail to see it highlighted. Helps to see start and end points for an individual trail.
Scroll and zoom the map before printing, and that view will persist into the printed image.
Click a trail for more details and to download it individually.