Greasy Cove Trail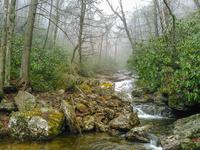 At A Glance


3.2 mi one-way
Difficulty Rating: 3.2 (Most Difficult)
Steepness: Climbs Steeply
Tread Condition: Moderately Rough
Blaze Color: None
Trail Number: 362

This trail is located in the Shining Rock Wilderness area. For a list of all the trails in that area, see the Shining Rock Wilderness trails list page.
This trail also crosses into these trailhead areas:
Description
This trail initially traverses Grassy Cove Ridge at or near its crest, with minimal views other than of the Parkway, until it drops down to Greasy Cove Prong. Caution: The trail is especially difficult to see during this descent. It follows the prong until that stream meets the East Fork of the Pigeon River, where the trail terminates at the junction of the Big East Fork (#357) and Bridges Camp Gap (#607) trails.
All Photos from the Trail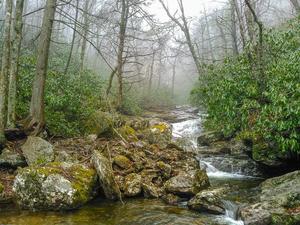 GPS Map
Download GPS Data
Click routes, trails, or points on the map to download them (on the GPS Data tab).
Total Calculated Length: 3.01 mi
This value is derived from our underlying map data, and it may not match officially published information.