Bridges Camp Gap Trail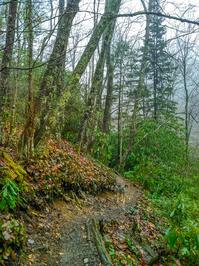 At A Glance


1 mi one-way
Difficulty Rating: 1 (Moderate)
Steepness: Climbs Moderately
Tread Condition: Moderately Rough
Trail Number: 607

This trail is located in the Blue Ridge Parkway Section 5 area. For a list of all the trails in that area, see the Blue Ridge Parkway Section 5 trails list page.
This trail also crosses into these trailhead areas:
Description
Starting on the Parkway in a mixed hardwood/spruce forest, the trail descends over a somewhat rocky path on an easy grade. You'll hear the river in the valley below. The trail passes through one switchback to the left and then into a wetter forest near the river with rhododendron and galax. The trail reaches another switchback at a campsite, and a very scenic stretch of the river.
Now heading downstream, the trail follows an old railroad grade where it passes relics from the age of widespread logging in the valley. You might see metal parts from old trains and railroad ties still embedded in the grade. The climb is very gentle and there are only a few spots with any notable obstacles. The river is below the trail and you'll get some wintertime views of several nice pools and cascades. The forest is lush and green, with lots of mossy rocks, and a few neat outcroppings.
The trail crosses into the Shining Rock Wilderness shortly before the junction with the Big East Fork (straight ahead) and Greasy Cove (left, across the river) trails. There is another nice campsite at the junction, and several small cascades worth exploring on the streams.
The Big East Fork trail continues downstream for 3.6 mi to the trailhead on US 276, while the Greasy Cove trail climbs 3.2 mi up to Ivestor Gap, making a long loop hike possible by combining this with Graveyard Ridge and the Mountains to Sea trails.
All Photos from the Trail
GPS Map
Download GPS Data
Click routes, trails, or points on the map to download them (on the GPS Data tab).
Total Calculated Length: 1.12 mi
This value is derived from our underlying map data, and it may not match officially published information.